Every morning in my daily meditation, I give thanks for the earth, water, the sun, air, the time I have on this planet, the knowledge I have access to, the vastness of space, the healing energy of Light, my ability to think and process, sounds that I hear, love that I feel, hope that I cling to, the senses that let me experience the world, my sexuality, and my roots. Yup, starting the day with gratitude for everything I need gives me perspective to start the day open to possibilities.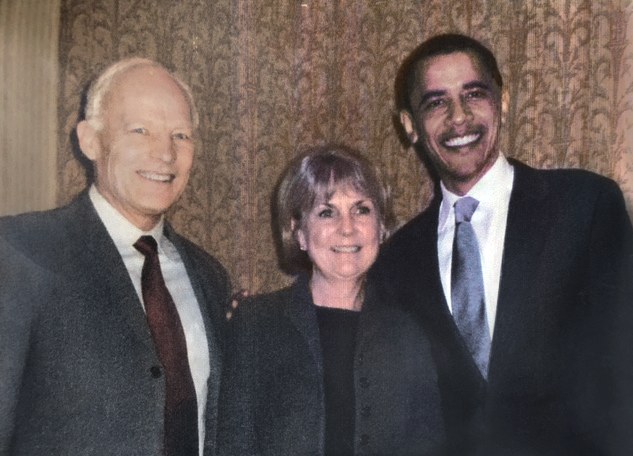 In this frame of mind, I was struck the other day by what a phenomenal person we have leading the free world. Yes, thank you, thank you, thank you President Obama for all you have done. You committed to saving our economy with your Stimulus Package, you committed to saving our soul with the Affordable Health Care Act. You committed to saving our planet with the Global Climate Change Initiative. You committed to saving America's reputation through your relationships with world leaders. You committed to modeling what effective parenting looks like with Sasha and Malia. You committed to improving race relationships by speaking out with soaring words and impassioned pleas. Thank you!
When I read a recent article in the New York Times describing President Obama's use of solitude and reflection ("Obama After Dark: The Precious Hours Alone," July 2, 2016), it made me realize how lucky we have been to have witnessed such profound leadership. Every night after dinner with his family, he retreats to his quiet office and reads diligently through all the briefing papers until around 1:00AM and prepares for the next day's incoming crises. And, after 5 hours of sleep, he's at the helm again fielding questions and making decisions that affect the whole world. Thank you for your tireless dedication to the world's most difficult job.
So, as President Obama's second term draws to a close, I felt the need to express my profound gratitude for the gifts he has given us over the last 8 years: soaring speeches, sober analysis, silly skits on comedy channels, substantive proposals, and serious dialogue. Yes, he can be aloof and many critics contend that he has not taken strong enough measures on Syria, ISIS, Saudi Arabia, etc. But his commitment to do what's right and his disciplined approach to life and work should inspire us all. It seems like the only people in the world who don't admire and respect him are Republicans whose main goal is to limit his effectiveness. Why is that? Could it be recalcitrant bias or selfish stubbornness? Is it rampant racism or truculent tribalism? Or is just free-floating anxiety, anger, and alienation? I don't know.
What I do know is that, as the next election looms ahead, we can't be seduced by hate speech and fear mongering. I suspect that Obama's election in 2008 lulled progressives into laziness and stirred conservatives into livid rage. Liberals declared victory and retreated into smug satisfaction that a black man was now president. Conservatives tapped into the latent racism that has now erupted in full force because a black man defeated a war hero and then trounced a tall, white handsome, rich, religious man. First the rage manifested in the shooting of black teenagers, and has now crystallized in the support of a racist, reckless, narcissistic, misogynistic, xenophobic demagogue.
I'm also thankful we have an extremely capable qualified alternative in Hillary Clinton. Yes, I know she is not the most popular person in the world. Have she and Bill made poor decisions? Certainly, haven't we all? Have they been driven by a will to power over the past three decades? Of course, don't we all wish we had more power and influence? Have they engaged in self-serving, money-grubbing activities? No question about; I wish we were all more pure and innocent.
Ultimately, however, the presidency is about policy-making, not about packaging and posturing. Thus, the position requires both scientific rigor and spiritual intelligence. We should elect the person to this office who has both a respect for science and an appreciation for universal values. The position is too important to be acquired through seduction and manipulation. Supporting Trump is a simply a cover for people who want to spew their hatred.
In a recent commencement speech, Atul Gawande said that science is not a major or a career. It is a commitment to a systematic way of thinking. I trust Hillary to think systematically and scientifically.
In 1919, Rudolf Steiner, the founder of anthroposophy, delivered lectures to the teachers of the first Waldorf School. These lectures were then packaged in the book, The Foundations of Human Experience.  Steiner suggested that "to achieve a renewal of modern spiritual life, the Waldorf School must be a true cultural deed. The ultimate foundation of the whole social movement in the spiritual realm and the question of education is one of the burning spiritual questions of modern times." I trust Hillary to be a good steward of a more spiritual social movement.
It's disappointing that we have not made more progress in the last 100 years on achieving a more spiritual culture. Steiner based the Waldorf School on three key values:
Enliven imagination
Stand for truth
Feel responsibility
When I think about the possibilities for creating a more spiritual culture in the world, these three values ring very true for me. We must enliven our imagination to envision what a multi-cultural, inclusive, welcoming global community might look like. We must find the courage to stand for truth, search for truth, and to speak truth to power. And we need to take responsibility for our footprint on this earth.
In the next several months, I hope we will imagine a harmonious world order, stand for truth, and feel the responsibility required to sustain human life on this planet. And I hope that the American people will come to their senses and not prove democracy to be a really bad idea. Criticism is fine. Disagreement is good. Dissent is what makes America. But it needs to be grounded in facts and evidence.
In addition to all the things I give thanks for each morning, I am also thankful that we have had Barack Obama as our President for the last eight years. And I am thankful for the dedicated and unrelenting public service that Hillary has given us over the course of her career. If she can carry forward Obama's legacy, the next eight years could be very exciting.
To me, giving thanks is a healthy antidote to all the negativity we encounter in our lives.
---
Also published on Medium.